The only IT support you will ever need
Consider us your internal IT department

Black Cat Technology are an IT Management and Support company operating mainly (but not exclusively) in the Nottingham and Derby area.  Our goal is to provide your business with the professional and excellent service that you deserve.
Whether it's monitoring your infrastructure so we can pro-actively fix your issues before they become big problems, provide hosted services such as email or web, or provide ad hoc support when needed, we can help.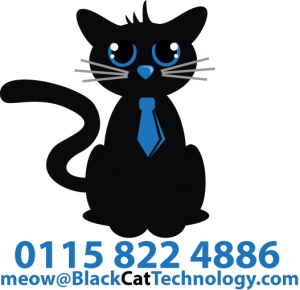 We are so impressed with Black Cat Technology that we even told them to raise their prices !
The best IT support company we have ever worked with.
We are able to focus on our business knowing that they are monitoring our systems and responding to any problems remotely or in person.
Using the cloud system recommended to us by Black Cat Technology has revolutionized the way we work.
Our clients think we're the "cats whiskers" try us and we are sure you will agree.